Dispensing
The Dispensary is open during normal surgery hours. We are currently having collection times from 12-1pm and 2-6pm, to allow staff to assist with safe collection of medications.
Repeat Prescriptions
Requests for repeat prescriptions can be made online by registering for this service at the practice, and then clicking the systmonline icon below,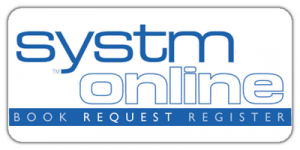 They can also be made
In person – drop the slip in the box at reception having clearly marked the items required.
By post – addressed to Repeat Prescriptions at the above address
We DO NOT accept telephone requests as these generate a high rate of errors.
Please allow 72 hours for your request to be processed, they can then be collected after 4pm. Thank you.
Prescriptions Charges and Exemptions
Extensive exemption and remission arrangements protect those likely to have difficulty in paying charges (NHS prescription and dental charges, optical and hospital travel costs).
The NHS prescription charge is a flat-rate amount which successive Governments have thought it reasonable to charge for those who can afford to pay for their medicines. Prescription Prepayment Certificates (PPCs) offer real savings for people who need extensive medication.
After a national price rise, from 1 April 2023, the charges are:
Prescription (per item): £9.65
3-month prepayment certificate (PPC): £31.25
12-month prepayment certificate (PPC): £111.60
If you will have to pay for four or more prescription items in three months, or more than 14 items in 12 months, you may find it cheaper to buy a prepayment certificate (PPC).
The recently announced Hormone Replacement Therapy (HRT) PPC will cost £19.30 (the cost of two prescription charges). Please note that whilst the HRT PPC was originally announced as costing £18.70, this has increased to reflect the rise in the prescription charge. This PPC can only be used when a patient is prescribed a listed HRT medicine.
There is further information about prescription exemptions and fees on the NHS website
Blister packs
We sometimes receive requests for "blister packs" to help with medications, particularly for older patients, who may be struggling for example with dementia or after a stroke.
This is to explain why we don't find them helpful and what we suggest instead:
Overmedication
Tablets should be stopped if not required, some examples include regular painkillers when not in pain, or constipation tablets when not constipated, taking regular water tablets if dehydrated.
Adding medicines to a blister pack means they might be given to the older person even when it would be much better to not take them.
They don't work
We have found that an older person with poor memory may still end up taking tablets for the wrong day, wrong time. We have ended up with a large packet of tablets with various missing tablets and no clear picture of what has been taken and when. We don't find a blister pack is safer.
Waste
With both the time used to package them into blisters, and all the plastic and materials used, they are wasteful of time, materials, and medications.
Cost
The extra time, packaging and medications also come at financial cost, without clear benefits.
So what do we recommend?
A simple pill organizer box, which can be washed and re-used, such as the £1 "Keep It Handy Weekly Pill Box" from Tesco. This would require a friend, family member or carer to organise their tablets into the boxes, usually once a week, but larger monthly boxes are available or boxes with compartments for different times.
As doctors we need to try and reduce or stop medications in our most frail and elderly, since as we become more forgetful and frail, risks and side effects become relatively greater, compared to limited benefits. We want to prioritise only those medicines which may improve symptoms and quality of life.
We need to acknowledge there is not a packaging system which fixes the challenge of caring for our frail older people.
Despite our concerns that blister packs are not effective, are costly and wasteful, we are told some care agencies will insist that they can only provide care to patients whose medications are supplied by blister packs. In this situation we would supply paper prescriptions which you could then deliver or post to a remote pharmacy service, who could then send the prescriptions to your door. Because we are a fully dispensing GP practice, we are not linked to the Electronic Prescription Service (EPS), so we cannot send the prescriptions directly ourselves.